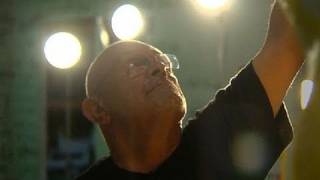 "I think all artists work at self portraits, and my whole intention of working with the antique was to make a connection between me and this anonymous sculptor. To meditate on the guy carving, and to meditate on the marks, and to leap across these generations, these thousands of generations, to be one with art." —Jim Dine
Happy Birthday to Jim Dine, born June 16, 1935.
From the Getty:
In 2008, artist Jim Dine created an installation for the Museum at the Getty Villa. The first contemporary art project at the Villa, the work presents new sculpture and poetry by Dine inspired by ancient objects in the Museum's collection. Two ancient Greek statuettes of dancing women, are magnified in Dine's four eight-foot-high painted wood female figures. Their arrangement around a seven-foot-high self-portrait head echoes the sculptural group Poet as Orpheus with Two Sirens. The artist's highly personal vision finds further expression in a poem drawn on the walls, with its Orphic themes of travel, loss, and the possibilities of art. Dine describes his creative process in this documentary.
Jim Dine has been a creative force in the art world since the 1960's, and his work is currently part of several group shows across the world including The Myriad Forms of Visual Art: 196 Works With 19 Themes at the National Museum of Art in Osaka, Japan; From Muse to and Myth to Figure and Gesture: 50 Years of Prints from the Permanent Collection at Tampa Museum of Art; and The American Dream: Pop to Present at the Fondation Custodia in Paris France.