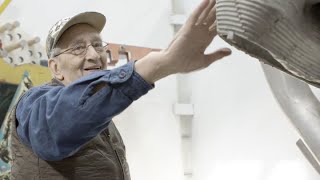 "The level of interest and sense of touch is the same. But the purpose of the touch is different. The touch doesn't have to work with representing something. It's allowed to be by itself. But it's still the same touch – there's no difference. In my humble opinion." —Frank Stella
In addition to one of the most impressive and diverse resumes of any living artist, Frank Stella also has a pretty impressive studio and a diverse art collection. Over the course of several months, across several sales, Christie's is now selling what could add up to $25M worth of work from Stella, including some of his own seminal works, as well as works by other artists that he has collected over the years. Collectively referred to as "Continuum: Select Works from Frank Stella's Personal Collection," the auctions will culminate in May with several works included in Christie's evening sales, and a dedicated sale of Stella's collection. Of course, we can't help but wonder what Barbara Rose thinks about all this.
This winter, Christie's visited Stella in his enormous Hudson Valley studio, where he reflected on his diverse body of work, and the common themes that run through it.