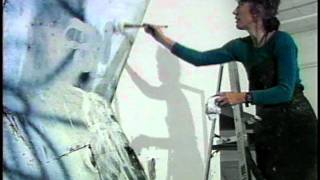 "It's abstract, it's representational—it seems like the whole ball of wax in a way." —Roberta Smith
Our latest post on Roberta Smith and Elizabeth Murray proved to be a popular one, so here's a vintage take.
This video—excerpted from Paul Tschinkel's encyclopedic ART/new york series—shows Murray in the late '80s at work in her Tribeca studio. Having abandoned traditional rectangular canvasses, she scrutinizes one of her "eccentric, irregular shapes," which "writhe and undulate with energy."
The excerpt features a coolly composed Paula Cooper in 1988 (she was Murray's first dealer in New York) as well as a young Roberta Smith, one of Murray's lifelong champions. Murray, who died in 2007, featured in a 2005 retrospective at MoMA and the just-concluded "Spotlight on Elizabeth Murray" at the Anderson Collection at Stanford University. That exhibition run featured a conversation between Smith and curator/writer Jason Andrew about Murray's legacy, which seems to grow by the day.
Posted with permission from ART/new york.